Massage Therapy in Commerce City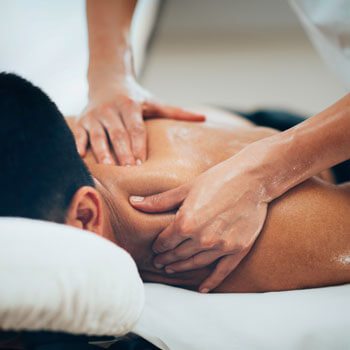 At Commerce City Chiropractic, the most exclusive chiropractic membership clinic in Commerce City, we understand the importance of the muscular system on the body, and the integral role it plays in helping your body move and function optimally.
The muscles of the body are the reason you're able to move around, and they're also responsible for keeping you upright against the downward forces of gravity. Unfortunately, your muscles are also susceptible to injury, and may be overworked when the body is under stress, causing pain and tiredness.
That's why it's very important to include massage therapy as part of your membership at Commerce City Chiropractic. We incorporate soft tissue work specifically designed to meet your health needs. Our therapist works to release the tension your muscles are under and ultimately, restore your body, so it's moving correctly, and pain is relieved.
New Practice Members

Techniques and Benefits
Massage has been in use for thousands of years. Throughout the years, different variations have been developed to address particular problems. Massage therapy is the practice of using the hands and fingers to manipulate muscles, ligaments and tendons to relieve stress on the body.
It also uses soft tissue mobilization to break up adhesions in muscles, and improve body mechanics and function. Some therapists may use mechanical devices to achieve these results.
More people are incorporating massage into their wellness routine to get relief from injuries. Our therapist may use a variety of techniques, including Swedish, deep tissue, myofascial release, and sports.
Some benefits our patients have seen with massage therapy include
Stimulates blood flow
Increases healing time from injury
Detoxifies the body
Promotes relaxation
Decreases pain
Improves movement
Boosts energy so you feel great
Book a Session
Give us a call at (720) 432-0084 to schedule your initial visit and check out our membership benefits. Contact us today!

Massage Therapy Commerce City CO | (720) 432-0084